T0118 Interior temperature transmitter with 4-20mA output
code: T0118

Ambient temperature transmitter. Indoor use.




Temperature transmitter is specially designed for use in exacting interiors in building energy management and HVAC systems. It designed for easy installation on ordinary KU68 wiring boxes for household switches and sockets.
Large dual line LCD is possible to switch off.
Computerized design ensures long term stability and fail indication. Transmitter is designed for use in non-aggressive environment.

 Included in delivery:

Traceable calibration certificate
Quick start manual
Free program TSensor for configuring of the transmitter is ready to Download


Send request
Features
APPLICATIONS - measuring and control of air temperature at:
building HVAC management
building HVAC automation
warehouses 
manufacturers
museums, archives, galleries
air-conditioned rooms

 

Output is adjusted to maximum temperature range from the manufacturer.
To adjust other range by the user buying of SP003 cable is necessary - see Optional accessory.
Free configuration program TSensor for transmitter adjustment is ready to download anytime.

If different adjustment of output temperature range is required, please specify required range in the order. Adjustment is free of charge.
Ordering example: Thermometer T0118, output 0 to +30°C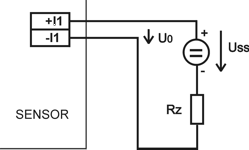 Typical application wiring
Calculation of minimum power voltage Uss for proper operation:
Uss min> Uo min + Imax * Rz,
where: Uo min= 9 V
Imax... approximately 20 mA
Rz... sensing resistor (shunt)
Technical Data
| Technical parameters | Value |
| --- | --- |
| Output | 4-20mA |
| Measured Value | Temperature |
| Construction Type | Interior |
| Design | Interior |
| Temperature Measuring Range | -10 to 50 °C |
| Relay Output | No |
| Two-State Input | No |
| Lcd Display | Yes |
| PoE | No |
| Accuracy of temperature output | ±0.5°C |
| Available temperature units | degrees Celsius, Fahrenheit |
| Temperature operating range | -10 to +50°C |
| Current output - two-wire connection | 4-20mA |
| Configuration of output range | user adjustable from the PC |
| IP protection | IP20 |
| Power | 9-30Vdc |
| Dimensions | 88 x 106 x 33 mm (W x H x D) |
| Material of the case | ABS |
| Color | white |
| Weight | approximately 150g |
| Warranty | 3 years |