T3313 Temperature and humidity probe with RS232 output
code: T3313

Humidity, temperature transmitter. Outdoor, indoor use. Duct mount.




Relative humidity, temperature sensors at 150mm stem. Measured values are also converted to other humidity interpretation: dew point temperature, absolute humidity, specific humidity, mixing ratio, specific enthalpy.

Included in delivery:


Send request
Features
Programmable temperature and humidity transmitter is equipped with temperature and relative humidity sensors. Measured values are also converted to other humidity interpretation - dew point temperature, absolute humidity, specific humidity, mixing ratio or specific enthalpy. Degrees Celsius and Fahrenheit are user selectable. Transmitter contains a microprocessor based control circuitry in a durable plastic case with connection terminals and sensors with filter with stainless steel mesh. Large dual line LCD for simultaneous display of T+RH or other humidity interpretation is an advantage. Display is possible to switch off. Computerized design ensures temperature compensation of the humidity sensor and fail indication. State-of-the-art capacitive polymer sensor ensures excellent calibration long term stability, inertia against water and condensation. Transmitters are designed for use in non-aggressive environment.
APPLICATIONS - measuring and control of air humidity at:
building HVAC management
building HVAC automation
warehouses
glasshouses
manufacturers
museums, archives, galleries
air-conditioned rooms
weather stations
Measured pressure values are converted to RS232 serial output.
Serial output RS232 - transmitter works with ModBus RTU communication protocol or with Advantech ADAM compatible protocol. Protocol is user selectable in special configuration mode by means of the PC. Serial link enables to read actual readings and modify transmitter configuration. Instrument works always in slave mode, i.e. responds only to master device query. Transmitters have the address space available from 1 to 255. Communication speed is 110 to 115200Bd.
SOFTWARE: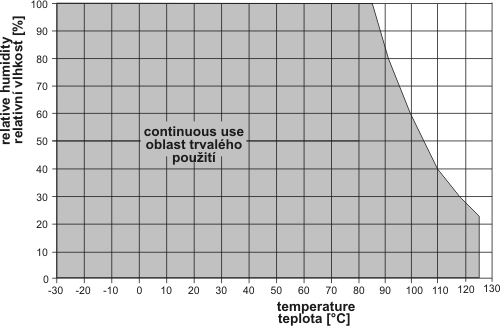 Figure: Relative humidity operating range
Technical Data
Technical parameters
Value
Output
RS232
Measured Value
Temperature + Relative Humidity
Construction Type
Duct Mount (700mm)
Design
Industrial
Temperature Measuring Range
-30 to 125 °C
Relay Output
No
Two-State Input
No
Lcd Display
Yes
PoE
No
Relative humidity range
0 to 100%
Accuracy of relative humidity measurement
±2.5% relative humidity from 5 to 95% at 23°C
Accuracy of temperature output
±0.4°C
Available temperature units
degrees Celsius, Fahrenheit
Accuracy and range of dew point temperature output - for more details see graphs
±1.5°C at ambient temperature T<25°C and RH>30%
range -60 to +80 °C
Accuracy and range of absolute humidity output
±1.5g/m3 at ambient temperature T < 25°C
range 0 to 400 g/m3
Accuracy and range of specific humidity output
±2g/kg at ambient temperature T < 35°C
range 0 to 550 g/kg
Accuracy and range of mixing ratio output
±2g/kg at ambient temperature T < 35°C
range 0 to 995 g/kg
Accuracy and range of specific enthalpy output
±3kJ/kg at ambient temperature T < 25°C
range: 0 to 995 kJ/kg
Temperature operating range
-30 to +80°C
Temperature operating range of LCD display
readable to operating temperature +70°C, it is recommended to switch OFF the LCD over +70°C
Temperature compensation of the humidity sensor
all temperature range
Communication protocol
ModBus RTU and Advantech ADAM compatible protocol
Communication speed
110 to 115200 Bd
Filtering ability of sensor cover
0.025mm - filter with stainless steel mesh
Protection of the case with electronics
IP65 electronics, IP40 sensors
Power
9-30Vdc, current consumption approximately 6mA
Dimensions
display unit 88.5 x 250 x 39.5 mm (W x H x D), stem length 150 mm
Weight
approximately 310g
Warranty
3 years
Comet Database,

Code: CDB

more »
Comet Database One Click Installer - version 15.0-I
341 MB
Comet Database - changes log
10 kB
Comet Database - main Manual
2.4 MB
How to run programs with database connection configuration taken from file
60 kB