« back
News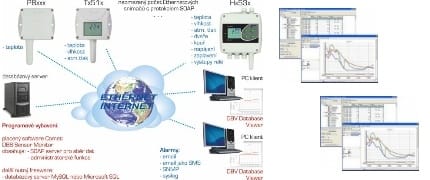 GSM Communication with Sxxxx, Rxxxx Dataloggers
Wireless communication with Sxxxx, Rxxxx loggers via GPRS
---
Wireless communication with Sxxxx, Rxxxx loggers via GPRS
- Remote data download from logger
- Logger configuration (setting, erasing of data, etc.)
- Reading of actual values (online display mode)
- All actions available as via COM/USB adapter
- Connection realised via M2M Talk server
- Communication via M2M server can be disabled, if data download is not required = saving of cost
SMS queries about actual values
- Sending of SMS query to modem telephone number returns actual values. After receiving of SMS query modem sends by return required info in SMS message.
- It is possible to limit phone numbers SMS commands are sent from. Same it is also for configuration-service SMS commands.
Alarm SMS messages - modem sends to phone numbers alarm SMS messages:
- If upper/lower limit of measured value is exceeded
- Information on filling of the logger memory (90% and 100%)
- Information on low logger battery or end of estimated battery approaches.
- Information on logger on/off.
- Error messages (communication error with logger, internal clock error, measured value error)
- Possibbility of sending SMS to more phone numbers