Event data logger
code: S7841

Four-channel data logger is designed for record of two-state events. Values are stored to a non volatile electronic memory. Data transfer to the personal computer for further analysis is performed via USB, RS232, GSM or Ethernet interface by means of a proper communication adapter.




The device includes Traceable calibration certificate with declared metrological traceability of etalons is based on requirements of EN ISO/IEC 17025 standard.

For communication with the PC must be from Optional accessories ordered USB adapter, LAN adapter or COM adapter or start/stop magnet if is needed to control logging the other way than directly from computer.


Send request
Features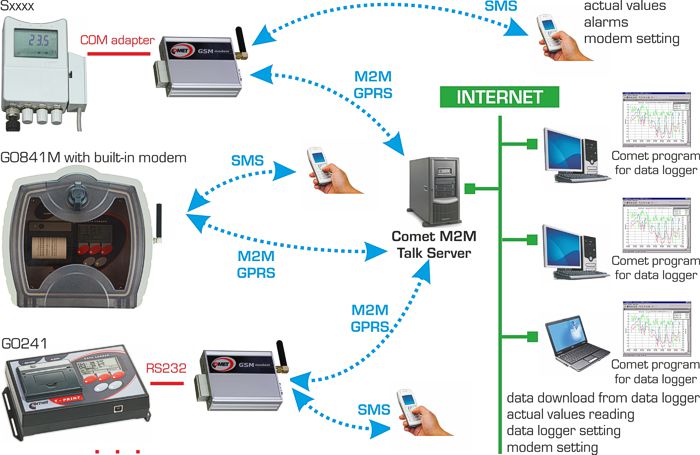 Applications:
record of door opening / closing
monitoring of functions of a machine
record of technological processes
record of running hours
Event logger advantages:
variability of PC connectivity - RS232, USB, Ethernet, GSM modem
permanent connection to the PC enabled, data is possible to download even during logging
large dual line display, switchable
robust case
easy installation, locking enabled
low power consumption from battery, battery life up to 4 years
indication of remaining battery life, easy replacement of the battery
logging start/stop is enabled in several ways: at certain time and date programmed from computer, by delivered magnet or depending on logical state on channel 4 input
each logical state is possible to describe from the PC with the text of maximum 8 characters. Description is used on the list of the recorded values
each logger is possible to describe with text of maximum 32 characters

each channel is possible to describe with text of maximum 16 characters
password protection is enabled to prevent unauthorized manipulation with logger
Included in delivery:
Data logger including the battery
Traceable calibration certificate with declared metrological traceability of etalons is based on requirements of EN ISO/IEC 17025 standard.
Quick start manual
Free basic Windows software is ready to download at folder Download
Technical Data
Technical parameters
Value
Measured Value
Two-State Events
Operating temperature range
-30 to +70°C
Number of binary inputs
4
Signal character at binary input
from potential-less contact or two-state voltage signal - selection by the switch
Terminal of input signals
removeable WAGO 734, maximum cross section of leads 1,5mm2
Real time clock
year, leap year, month, day, hour, minute, second
LCD display refresh
each 5 s
Total memory capacity
16245 changes of input signal in noncyclic logging mode
15778 changes of input signal in cyclic logging mode
Data logging modes
noncyclic - data logging stops after filling the memory
cyclic - after filling memory oldest data is overwritten by new
Power
Lithium battery 3,6V, size AA
Typical battery life
4 years
IP protection
IP20
Dimensions without connectors
93x64x29mm
Weight including battery
approximately 130g
Warranty
3 years
COMET Vision - Software for Dataloggers and Multiloggers,

Code: CV

more »
Comet Vision - version 1.3.6422.15899
14 MB
Comet Vision - history of changes
7 kB
Comet Vision - manual
1.4 MB
Comet Database,

Code: CDB

more »
Comet Database One Click Installer - version 15.0-I
341 MB
Comet Database - changes log
10 kB
Comet Database - main Manual
2.4 MB
How to run programs with database connection configuration taken from file
60 kB
COMET Vision - Software for Dataloggers and Multiloggers

code: CV

COMET Vision - Software for COMET Dataloggers Sxxxx, Rxxxx, Commeters Dxxxx and Multiloggers Mxxxx.
Comet Database

code: CDB

System for collecting, alarming and analysing of measured data from all COMET devices.
Dual channel logger with pulse and binary input

code: S7021

Data logger is designed for record of pulses and two-state events. Values are stored to a non volatile electronic memory. Data transfer to the personal computer for further analysis is performed via USB, RS232, GSM or Ethernet interface by means of a proper communication adapter.
Ethernet Multilogger M1140 - thermo hygro meter with 4 MiniDIN inputs

code: M1140

Universal datalogger with 4 hardware MiniDIN inputs for connecting temperature and humidity probes.
Multilogger can be installed permanently to Ethernet network or work as portable device.
Included is traceable calibration certificate in accordance with EN ISO/IEC17025.