Remote temperature sensor with 4-20mA output
code: P0120

Remote temperature transmitter. Outdoor, indoor use.




Built-in temperature sensor.

Included in delivery:

Traceable calibration certificate
Quick start manual


Send request
Features
Temperature transmitter contains a microprocessor based control circuitry in a durable plastic case with connection terminals. Bult-in precise temperature sensor. Computerized design ensures long term stability and fail indication.
APPLICATIONS - measuring and control of temperature at:
building HVAC management
building HVAC automation
warehouses
glasshouses
manufacturers
museums, archives, galleries
air-conditioned rooms
weather stations 
Output is adjusted to -30 to +80°C temperature range from the manufacturer.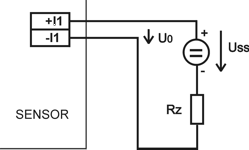 Typical application wiring
Calculation of minimum power voltage Uss for proper operation:
Uss min> Uo min + Imax * Rz,
where: Uo min= 9 V
Imax... approximately 20 mA
Rz... sensing resistor (shunt)
Technical Data
| Technical parameters | Value |
| --- | --- |
| Output | 4-20mA |
| Measured Value | Temperature |
| Construction Type | Ambient Air |
| Design | Industrial |
| Temperature Measuring Range | -30 to 80 °C |
| Relay Output | No |
| Two-State Input | No |
| Lcd Display | No |
| PoE | No |
| Accuracy of temperature output | ±0.4°C |
| Temperature range of 4-20mA output | -30 to +80°C |
| Temperature operating range | -30 to +80°C |
| Current output - two-wire connection | 4-20mA |
| Break of sensor | >24mA |
| Short circuit of sensor | <3.5mA |
| IP protection | IP65 |
| Power | 9-30Vdc, typically 24V |
| Dimensions | 88.5 x 148 x 39.5 mm (W x H x D) |
| Weight | approximately 120g |
| Warranty | 3 years |