Battery operated 16 input-channel datalogger with Ethernet interface
Multilogger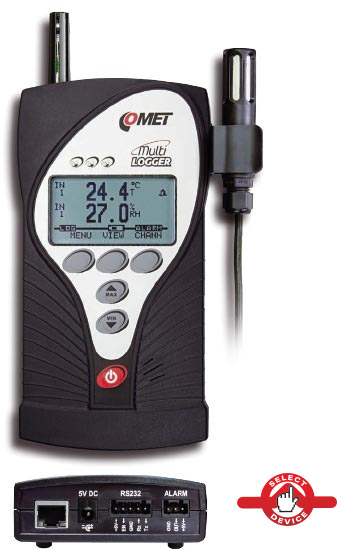 4 inputs
Temperature/ relative humidity probe DigiS/M.
Temperature/relative humidity probe DigiL/M on the cable.
Removable probe holder.
Measured values are shown on the graphical screen with backlight option and the ability to change the size of displayed digits.
Optional cable length 1, 2, 5, 10, 15 metres.
The device can be set from the keypad. You can set a password to prevent unauthorized access to the device settings.
Built-in audio alarm.
To communicate with a PC and other systems, the device is equipped with a USB port (located on the side of the device), RS232 and Ethernet.
- send an email when an alarm state starts or ends
- use DATALINK: display current values or download values from
device memory to your PC - view current measured values using your web browser
- third-party applications to read the actual measured values using
universal protocols SNMPv1 and XML - send data to COMET DATABASE software which contains many useful tools for data analysis - graphs, tables, statistics, etc.
Internal atmospheric pressure and / or CO2 concentration sensors.
Battery and mains power supply.
Measured values are stored internally in non-volatile memory.
Alarm indication by LEDs or graphical display.
Main features
up to 6 hardware inputs for measuring and recording, 16 virtual channels
- temperature
- humidity
- dew point
- atmospheric pressure
- current 0 - 20 mA and voltage 0 - 10 V (-60 to 140 mV)
- two-state events
- pulses
- CO2
memory for 1 million values
indication of alarm conditions via
- e-mail
- SMS
- integrated acoustic siren LEDs
- stwo-state output to control other devices
analytical software for data processing and configuration - Comet Vision
communication interfaces - USB, RS232 and Ethernet (SNMPv1 and XML)
3 types of input
All models have 4 input connectors for external probes or signals. These may be supplemented by an internal atmospheric pressure transducer and / or CO 2 sensor.

Temperature probes Pt1000 (serie xxx/M)
Temperature/relative humidity probes with digital output (serie DIGI)

Sensors with bipolar output voltage and a range of- 60 to + 140 mV (heat flux sensors, etc.)

Devices with two-state output (monitoring of machine run, door open/ close, etc.)
Device with pulse output (gas and water meters, counter pieces on a production line, etc.)
Evaluation of up to 16 variables
Up to 16 variables may be calculated from the four connected probes / sensors. (This is the sum of the measured and calculated values). The calculated values can be:
- a further expression of moisture (dew point temperature, absolute humidity, specific humidity, mixing ratio, specific enthalpy)
- the result of inter-channel conversions
(eg. the difference of two connected temperature probes)
Alarm limits
It is possible to set two independent alarm limits for each channel (ie. measured or calculated value) which can be configured either as an upper and lower limit or two limits exceeding in a consistent direction. Alarm signalization can be acoustic (built-in beeper), optical (3 LEDs), alarm output or sending an e-mail alert.
Power supply
Power is provided from an external AC adapter, and operation of the device (except Ethernet interface) is backed up by replaceable batteries. The device can be used permanently installed or as portable device with the option to charge batteries directly using the AC adapter or using standard alkaline batteries size AA. Battery life is several months.
Handheld for measuring and recording
Commeter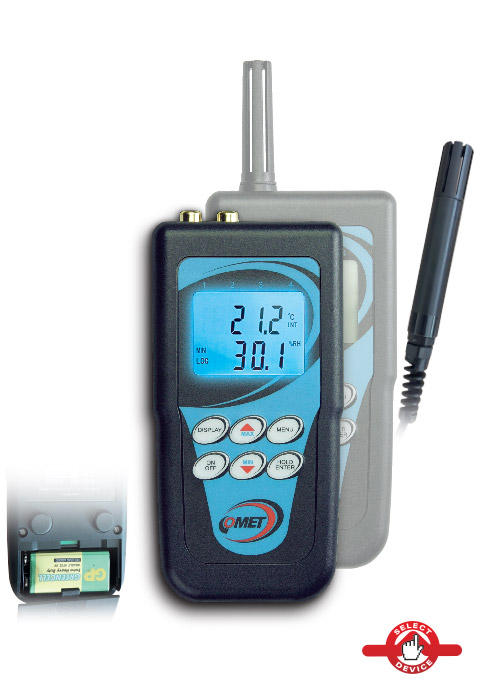 Temperature and humidity probe.
Temperature and humidity probe on a cable.
USB port for easy connection to a PC (D series only).
The measured values are stored in the internal nonvolatile memory for 16 000 records.
Built-in acoustic alarm.
Battery is included.
The device can be set from the keypad.
Measured values are displayed on a backlit display.
Inputs for up to two temperature probe Ni1000. Commeter with record - D0211 and D0221 can also measure together with Pt1000 probes.
Main features
measuring and recording
- temperature (probes Pt1000, Ni1000)
- humidity
- dew point
- atmospheric pressure
accurate measurement of up to two probes
version of the device with memory and without memory
audible and visual indication alarm conditions
analytical software for data processing and configuration
the possibility of setting through a keypad
USB communication interface
backlit display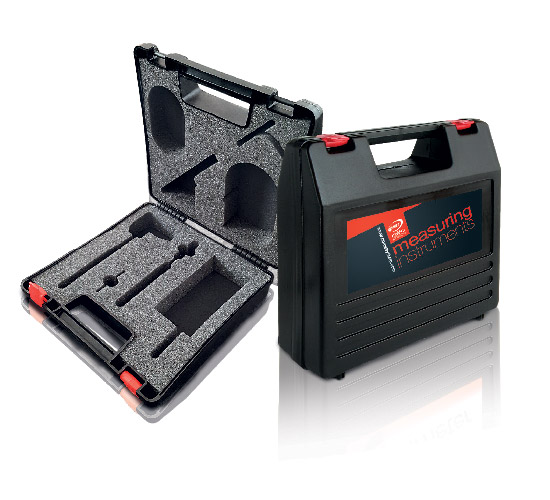 Commeter series D comes in a case for safe storage and transportation. There is also a place for accessories.
Measurment
COMMETER portable devices measure physical quantities such as temperature, dew point, humidity, atmospheric pressure or pressure tendency over the past three hours. The measured value is displayed on dual line LCD display. MIN / MAX value or a manually stored measured value can be read on the display.
Alarm indication
For each measurement channel can be set upper and lower limits. In case the limits are exceeded these limits alarm is indicated as the value blinking on the display. If the alarm is activated, the device can draw attention to this fact also by intermittent acoustic signal which can be turned off.
Record
Measured values can be stored in memory. Measured values are stored either automatically or manually. Automatic record stores the values at pre-intervals from 10s to 24h. Logging mode can be adjusted as non-cyclic, when logging stops after filling the memory or cyclic, when the oldest recorded values are overwritten by new ones after the memory is full. You can store up to 16 000 values. Manual mode allows you to save the current values by pressing HOLD / ENTER. Stored values can be transferred via the USB port to PC.
Data analysis
The recorded data can be transferred to a PC for further analysis. Obtained values can be displayed in the form of a table or graph, data can be printed or exported to dbf or txt format for further processing of spreadsheet software.
Measuring and recording system MS has been developed to meet all requirements for the possibility of alarming. Each of the 16 channels offers setting of hysteresis, a delay and up to four conditions to active alarm. Alarm can be presented as sound (buzzer) and as visual signal (LED 1-32). For each alarm you can assign actions to be performed.