manufacturer of measuring instruments
Multilogger - Thermometer with 4 Thermocouple inputs and Ethernet port
Universal datalogger with 4 inputs for thermocouples K, J, S, B, T, N.
Multilogger can be installed permanently to Ethernet network or work as portable device.
Included is traceable calibration certificate in accordance with EN ISO/IEC17025.
The Multilogger is a battery operated datalogger capable of measuring and recording sensor and electrical values through its Inputs.
Datalogger can be connected to Ethernet. Then measured values can be viewed on a web browser, as well as stored and downloaded for later analysis.

code

M1200

Warranty

3 years
Technical data
TEMPERATURE SENSOR - thermocouple K, N
Measuring range
-200 to +1300 °C
Accuracy
± 0,3 % from the measured value + 1,5 °C
TEMPERATURE SENSOR - thermocouple J
Measuring range
-200 to +750 °C
Accuracy
± 0,3 % from the measured value + 1,5 °C
TEMPERATURE SENSOR - thermocouple S
Measuring range
0 to +1700 °C
Accuracy
± 0,3 % from the measured value + 1,5 °C
TEMPERATURE SENSOR - thermocouple B
Measuring range
100 to +1800 °C
Accuracy
± 0,3 % from the measured value + 1 °C in the range +300 to +1800 °C
TEMPERATURE SENSOR - thermocouple T
Measuring range
-200 to +400 °C
Accuracy
± 0,3 % from the measured value + 1,5 °C
Measuring range
-60 to +140 mV; -18 to +18 mV
GENERAL TECHNICAL DATA
Operating temperature
-10 to +60 °C
Channels
4x external temperature probe
Memory
1 000 000 values (noncyclic record), 600 000 values (cyclic record)
Recording interval
1s to 24 hours
Display and alarm refresh
each 10 s
Recording mode
noncyclic - data logging stops after filling the memory
cyclic - after filling memory oldest data is overwritten by new
Available temperature units
degrees Celsius, degrees Fahrenheit
Communication interface
Ethernet, USB, RS232
Ethernet communication protocols
WWW, SNMPv1, XML, DATALINK
Power
AC adapter 230Vac/5Vdc (neccessary for Ethernet interface)
Dimensions (without connectors)
178 x 95 x 37mm, without attached cables
Weight (including batteries)
approx. 380 g
Features
Up to 4 physical Thermocouple Inputs

Themocouple probe K, J, S, B, T, N
Direct input of bipolar voltages with range up to -60 to +140 mV
Sensors with woltage output (range -60 to +140mV; accuracy ±100 µV or -18 to +18mV; accuracy ±20 µV)
Evaluation of up to 16 variables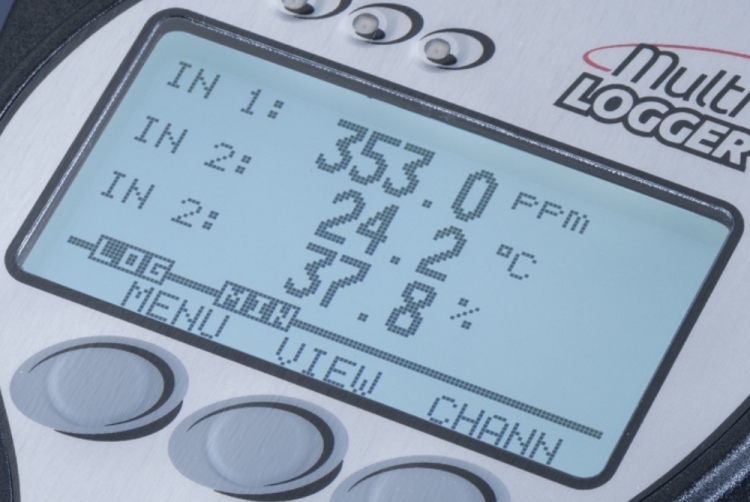 Up to 16 variables may be calculated from the four connected probes / sensors. This is the sum of the measured and calculated values. The calculated values can be the result of inter-channel conversions, e.g. the difference of two connected temperature probes.
The measured values are stored in the internal non-volatile memory. Memory capacity is up to 1 million values. Logging mode can be adjusted as non-cyclic, when logging stops after filling the memory, or cyclic, when after fulfilling the memory oldest stored values are overwritten by new ones.
Measured values are displayed on the screen with backlight option and the ability to change the size of display digits.
Power supply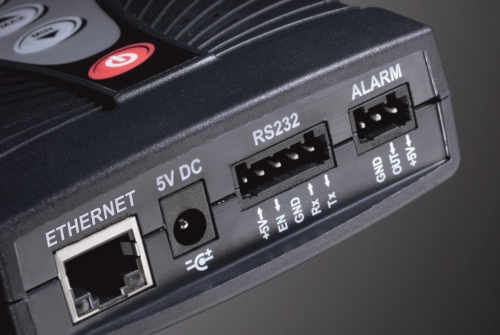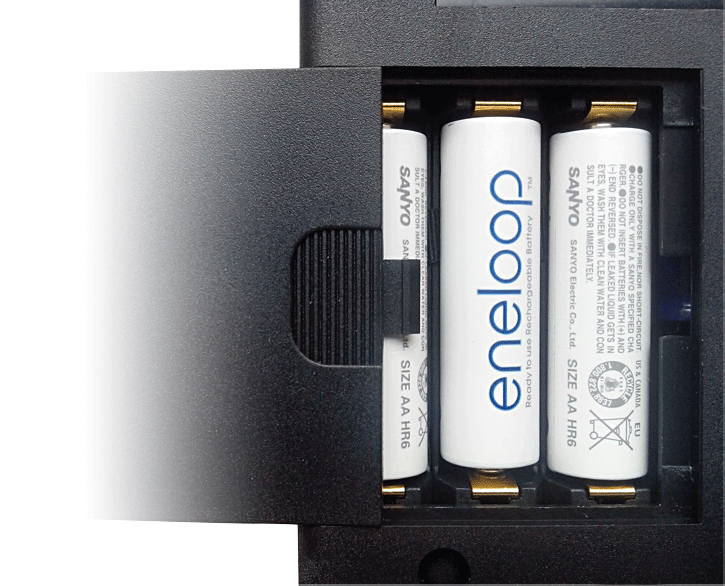 Multilogger can be powered by AC adapter or by rechargeable batteries with charging capability. Batteries are always a part of the device (you can also use standard alkaline AA batteries). Batteries power the device for several months.
While using the AC adapter, the batteries provide backup operations and provide recording and measurement during power failure. Thanks to the Ethernet output the device informs about the failure via e-mail message.
Alarm limits and alarm indication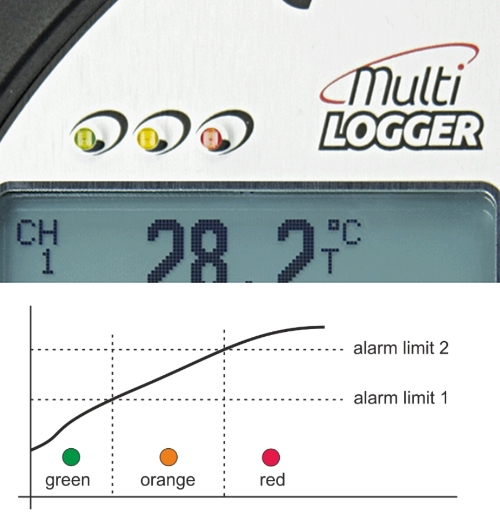 It is possible to set two independent alarm limits for each channel (i.e. measured or calculated value).
Alarm signalization can be acoustic (built-in beeper), optical, sending an e-mail alert or an alarm output. The alarm output is for connecting an external audio or visual alarm.
Communication interfaces
Multilogger is always equipped with USB connector for communication, data analysis and also for charging of the rechargeable batteries.

send an e-mail when an alarm state starts or ends
use DATALINK: display current values or download values from memory to COMET Database in your PC. Software COMET Database contains many useful tools for data analysis - graphs, tables, statistics, etc.
simple wireless communication with Wi-Fi TP-LINK router
third-party applications to read the actual measured values using universal protocols SNMPv1 and XML
view current measured values using your web browser
Output ALARM OUT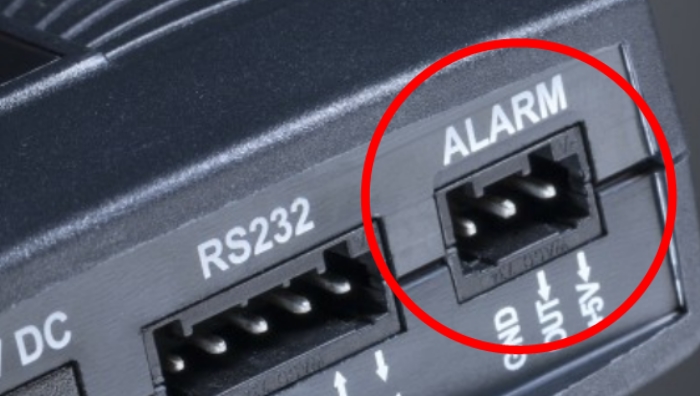 Output can be used for controling other devices when alarm is launched, such as external buzzer, telephone dialer etc.
Type of output - open collector transistor
Max. switching current - 100 mA
Max. voltage on output - 24 V
Auxiliary voltage at terminal - +5 V (only when the mains supply is present)
Users can receive alarms if the values go outside the paramters set. Alarms are indicated through an internal buzzer , 3 LEDs or email alerts via Ethernet port.