manufacturer of measuring instruments
Sixteen Channel Data Logger with Alarms
The complete solution for monitoring of temperature, humidity, pressure, CO2, voltage, current, pulses, events and other signals. Universal configurable inputs and outputs.
Data loggers are designed for measuring, recording, evaluation and subsequent processing of input electrical signals, which are subject to relatively slow changes (> 1s). In conjunction with the appropriate sensors and transducers are suitable for monitoring physical quantities.

The device includes traceable calibration certificate with declared metrological traceability of etalons is based on requirements of EN ISO / IEC 17025. The calibration sheet is always loaded as modules.
If the defined required configuration of inputs by, calibration certificate proves calibration inputs according to the required configuration - more than one range for each of the 16 inputs.

Processing and analysis of measured data (with connected optional Ethernet module):
code

MS6D

Warranty

3 years
Technical data
Measured value
Counted values (dew point…)
GENERAL TECHNICAL DATA
Operating temperature
0 to +50 °C
Channels
1 to 16 inputs - software configurable
Memory
2MB (up to 480 000 values)
Memory type
internal SRAM, backed-up by Lithium battery
Recording interval
adjustable individually for all input channels from 1 second to 24 hours
Recording interval
noncyclic - data logging stops after filling the memory
cyclic - after filling memory oldest data is overwritten by new
Real time clock
year, leap year, month, day, hour, minute, second, backed-up by Lithium battery
Resolution of the AD converter (analog channels)
16 bits, conversion duration approximately 60ms/channel
Communication speed
9600, 19200, 57600, 115200 Bd, 230400* Bd (* pro USB, Ethernet)
Communication protocol
www, XML, SNMP, SOAP, ModbusTCP
Alarm protocols
email, SNMP trap, Syslog
Dimensions (including connectors)
215 x 225 x 44 mm
Parameters of configurable inputs
Features
Device enables:
to measure and process 1 to 16 input signals
to acquire autonomous time record of measured values
create alarm states
to perform other actions based on created alarms (audible, visual indication, controlling of relay outputs, sending SMS message, controlling of telephone dialer, sending of messages via several protocols of the Ethernet interface etc.)
to monitor on-line measured values and states
independent hysteresis setting, delay (for each channel separately)
setting up to four alarm conditions (for each channel separately)
Common connectivity options:
Monitoring system MS may be configured for almost any desired measurement application. Sensors can be wired to datalogger in star-like connection as well as in serial. Combination of both is also possible. The monitoring system MS is characterized by a wide range of communication interfaces such as the RS232, RS485, USB, Ethernet and GSM or GPRS modem. Thanks to Wi-Fi routers several measuring systems MS can be wirelessly connected to a network.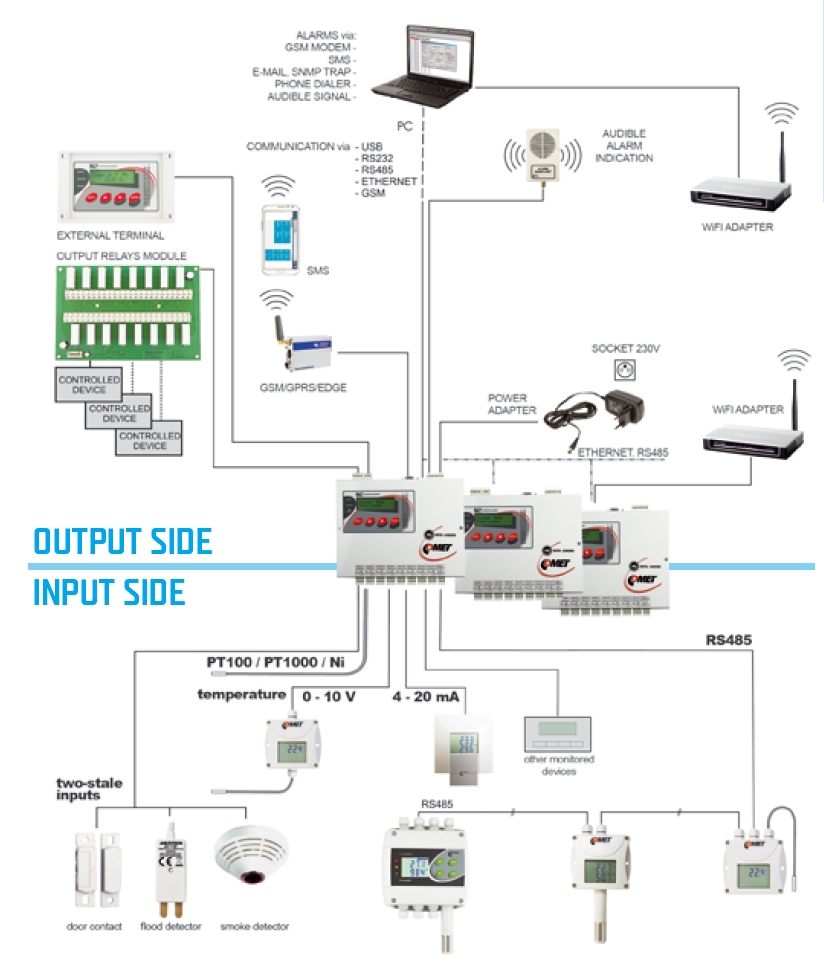 Parameters and measuring ranges of configurable inputs MS6D
The monitoring systems MS6xx is equipped with 16 freely programmable universal inputs. Each of them can be set to the input signal according to the table below. The monitoring system is thus very flexible and offers ease of use. The RS485 input must be ordered separately if you want to use the Modbus or Advantech communication interface.
Main features:
software configurable inputs for temperature sensors Pt and Ni, thermocouples and thermistors, voltage and current, two-state events, resistance, sensors with RS485 output
memory for 500 000 records with automatic downloading to PC
alarm indication via integrated siren, e-mail, SMS and two-state output to control other devices
software for data analysis on PC
communication interface USB, RS232, relays, RS485 (Modbus RTU), ETHERNET (Modbus TCP, SOAP, etc.)